Winterville, Georgia Trust Houseman Services for the Best Selection of Complete Service
If you live in the City of Winterville, Georgia, you have probably seen the Houseman Services trucks driving alongside you on the road. Or perhaps you have seen one of our trucks parked outside your neighbor's home.
We offer the widest variety of home services under one company name in the area.
Houseman Services is on the cutting edge of the complete home services industry!
We are pleased to work in Winterville in the lovely Clark County, Georgia. Our family-owned company provides the most extensive list of services with quicker response times and more for your community. And we look forward to earning your business and exceeding your expectations in Winterville and the surrounding areas.
Quality Home Services for the City of Winterville
Hard work, responsibility, integrity, and professionalism are what we put into any job we do in the city of Winterville, GA. Our quality services for the home or small business in the area include but are not limited to the following.
Pest Control Services
Commercial Pest Control
Mosquito Control
Bed Bug Treatment
Lawn Care Program
Tree & Shrub Program
Landscape Installation
Residential Property Maintenance
And Commercial Property Maintenance
Call the Houseman Services Team in Winterville for service you can rely on. Contact our teams today for a FREE ESTIMATE.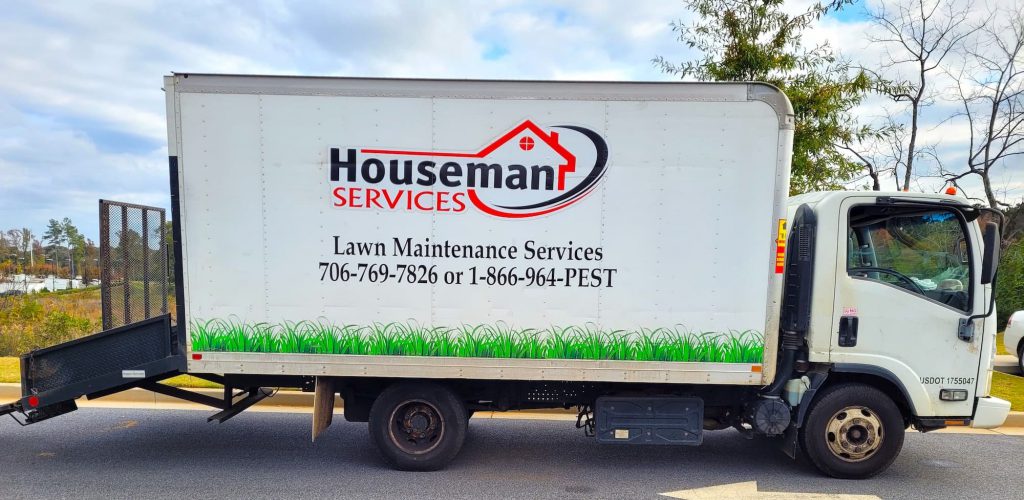 What Makes Houseman Services the Best in Winterville, GA?
There is no doubt; our Houseman Service Teams are the best around. We are the only full-service company in the area, but we are experts at most any home issue you come across. When you call on Houseman Services, here is a little of what you can expect:
Experience You Can Count On
High-quality Customer Service
The Best Guarantees in the Service Industry
Servicing Athens Since 1985
Competitive & Reasonable Rates
Convenient, Friendly Appointment Scheduling
Knowledgeable & Respectful Service Technicians
Licensed & Bonded in ALL Services Provided
For all this and more, go local, and call on the experts at Houseman Services every time.
Pest Control for the Town of Winterville
Houseman Services offers quality pest control for our residential and commercial clients. We use proactive pest control methods to identify pests, set up action plans, control existing problems, and prevent further infestation. Using Integrated Pest Management techniques (IPM), our service technicians will treat your home's outside and inside in the Athens and Winterville, Georgia, area.
The Houseman Services Lawn Care Program
For an award-winning lawn, trust Houseman Services for lawn care solutions customized for the needs of our climate. Our expert lawn care specialists are highly experienced in treating all types of lawns.
They will identify the varieties of grasses, shrubs, and trees in your yard to administer the individual care they need. Trust your property to the number one lawn care professionals in Winterville, Georgia.
Expert Crawl Space Encapsulation for Winterville
Prevent moisture from escaping through your floors and porous concrete walls with a crawl space vapor barrier that encapsulates your home's crawl space foundation.
Houseman Services will get those rodents, insects, and contaminants out from under your home, clean it up, and encapsulate the entire area. Our team will transform your home's damp, dark, and dirty crawl space into a much safer place for your whole family.
Houseman Career Opportunities for Winterville
Houseman Services is always looking for new talent. At Houseman, we trust our Winterville employees to provide our customers with the best customer care.
Are your career goals consistent with the professional and quality service we are known for?
We are an equal opportunity employer and do not discriminate against any applicants.
Contact Houseman Services if you are interested in a career investing in the local community with the highest standard in services.