Termites are a fact of life in the southeast. They cause millions of dollars in damage to structures each year, primarily residences. No structure, not even brick or concrete slab construction, is immune to their insidious appetite if there is any part of your structure made with cellulose. Yet, termite infestation is often difficult to detect. We utilize the latest technology and advanced techniques to provide expert termite control. Prevent or treat termite infestation with regularly scheduled termite control methods by Houseman Services.
The Difference Between Termites & Flying Ants
Flying ants have elbowed antennae. Flying termites have straight antennae.
Flying ants will have a pinched waist, whereas flying termites will have a solid, thick waist.
Flying ants have unequal length wings. The front wings will be longer than the rear wings. Flying termites have two pairs of equal length wings.
Termite Treatment Plan Options
Whether it's due to construction materials, natural habitat, or family lifestyle, we tailor termite control solution options to each customer's unique needs. The two main types of treatments we offer are termite baiting systems or traditional liquid barriers.
Advantages of Termite Baits
Using Advance® Termite Bait System
Baiting adds an additional measure of monitoring and prevention, even in the areas where liquid soil treatments have been effective.

Reduction in termite population.
Fewer disruptions in your environment compared with conventional barrier treatment, because most bait stations are generally outside.
Early detection of termites with colony monitoring and baiting is valuable termite prevention.
Advantages of Liquid Termiticides
Using Termidor® Liquid Termite Treatments.
Delivers immediate protection for you home or business
Lasts many years in the soil around your property
Eliminates the problem of termites locating "gaps" in the treatment
Inexpensive compared with baiting systems
A Termite Infestation in Your Home
Termites work silently and invisibly. They saw into your floor joists, cut into your wall studs, hollow out the heart of your home, and hide the damage until it's too late. In fact, one of the most significant hazards any homeowner faces is termites. They cause more damage each year than fires, storms, and earthquakes combined.
Termites survive by eating wood, paper, fiberboard, cotton fabrics, and other cellulose products. Houses and other buildings provide termites with the ideal combination of warmth, moisture, and food. Termites can find ways to enter your home that you've never thought of. They are small enough to enter hidden areas of basements, crawl spaces, and concrete slabs through openings as small as 1/32nd of an inch.
How Termites Infest Your Property
Termites build mud tubes across expanses of concrete, brick, cinder block, treated wood, or metal termite shields and into even the structure's upper floors.
Termites eat wood from the inside out, often defying detection for years while doing extensive damage to the wood and threatening the integrity of your home.
Houseman's Termite Control Provides:
Customized Termite Control: Do you have a busy schedule or need to schedule in the off-hours? We work our termite control solutions around your lifestyle needs without compromising effective pest control.
Termite Warranty: We guarantee to get the termite control job done right. That's why we offer damage replacement warranties that are renewable and 100% transferable. Choose from 5-year, 10-year, and Lifetime Warranties.
Free Termite Inspections: We will inspect your home or business for infestation or areas conducive to infestation at no cost or obligation to you.
Termite Clearance Letters: Houseman Services is a leader in providing real estate inspections and can issue termite letters – also known as the Official Georgia Wood Infestation Inspection Report – when needed.
New Construction Treatments: Houseman Pest Control Services offers new construction pretreatment to guard against termite attacks on residential and commercial structures.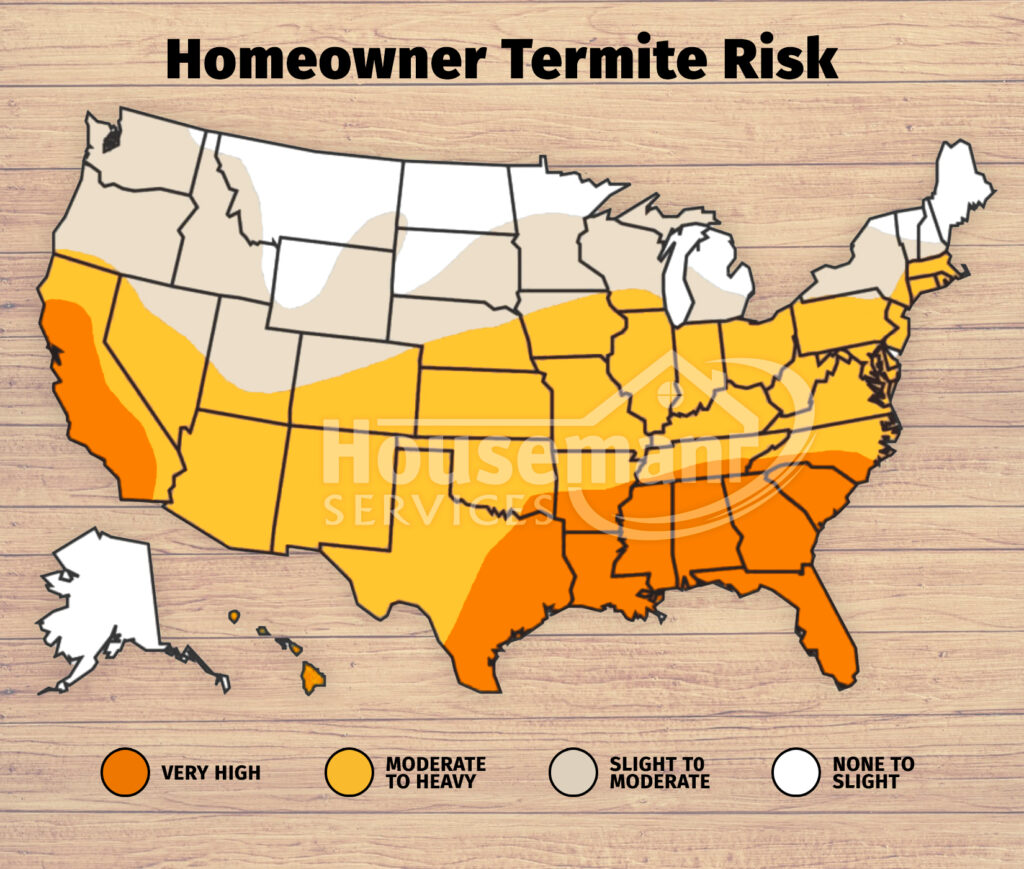 Effective Termite Control & Treatment in the Athens Area
When you call on the termite control and treatment services at Houseman Services, you can count on us to get the job done to your satisfaction. Our trained professionals will inspect inside your home and around your house, looking for areas vulnerable to termite infestation. Next, we will examine areas where termites forage for moisture and food. And we'll give special attention to conditions conducive to termite attacks. Our inspectors are well trained in termite behavior. They know where to look for termites and can determine how they got there.
Not only will our treatment methods eradicate current termite problems, but they will protect your most significant investment for years to come.
FREE Termite Control Consultation!