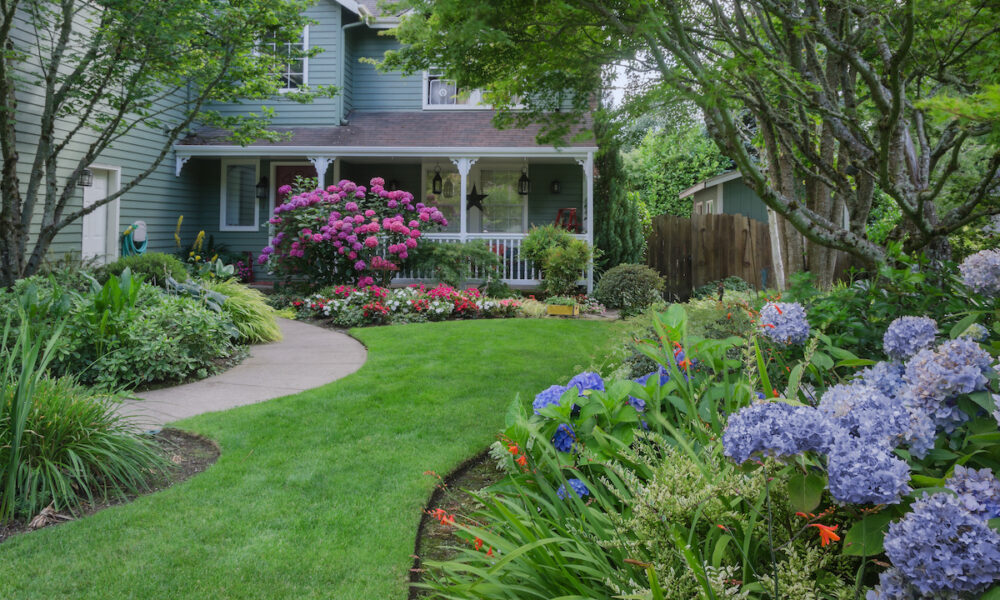 Do you have a residential property to maintain? It's no secret that there's a lot of work that goes on behind the scenes of every beautiful home, and lawn care is one of the most time-consuming tasks. The good news is that you can hire Houseman Services to provide excellent residential lawn maintenance without the hassle.
Keeping a decent lawn isn't rocket science. However, there are a lot of moving parts that need to be in place to ensure your lawn is thriving. In this blog, we're sharing the secrets of lawn care to make your yard a show-stopping display.
Mowing Techniques to Enhance Your Yard
Are you ready to learn some mowing techniques from the pros? Well, let's get started…
There are three techniques you can use when mowing that will help you achieve just that. These tips will also help you avoid the hassle of frequently replacing your lawnmower blades.
#1: Mowing your lawn evenly gives the lawn a polished, professional look by encouraging the growth of grass in all directions. It can also help reduce compaction, allowing for deeper grassroots, and improve the overall appearance of the lawn by removing any areas that are darker or lighter than the adjacent areas.
An evenly mowed lawn will have fewer spots that trap water and fertilizer which will decrease the chances for disease among your grass.
#2: Don't over-mow your lawn. Mowing your lawn too much can result in patchy bald spots that are unsightly and unhealthy for your yard. Bare spots leave your lawn vulnerable to weeds and erosion.
#3: Mow your first stripe as a guide for the rest of the stripes in your yard. You'll want to begin on the perimeter of the lawn to create a clean and streamlined appearance.
Mowing your lawn is both an art and a science. You'll have to pay special attention to the appearance of your lawn and be careful not to under mow or over mow. Striking the right balance is ideal for achieving a showstopping lawn that you're bound to love. Aim to mow your lawn every week, weather permitting, to keep it thick and lush at all times.
Can't find the time for weekly mows? Let Houseman Services take care of it while you tackle your busy schedule. One less chore to keep track of can free up your valuable time without letting your curb appeal suffer.
What Is The Most Efficient Way To Mow Your Lawn?
A spiral mowing pattern in which the mower moves in a clockwise spiral pattern is the most efficient way to mow your lawn. It does not cut straight lines and does not overlap any part of the lawn, which leaves the grass in a more natural state, creating a wildflower effect.
Other common mowing patterns are the helical, the inverse helical, the herringbone, the mulching, and the modified inverse herringbone. Let the experts at Houseman Services help you identify the best technique to complement your property.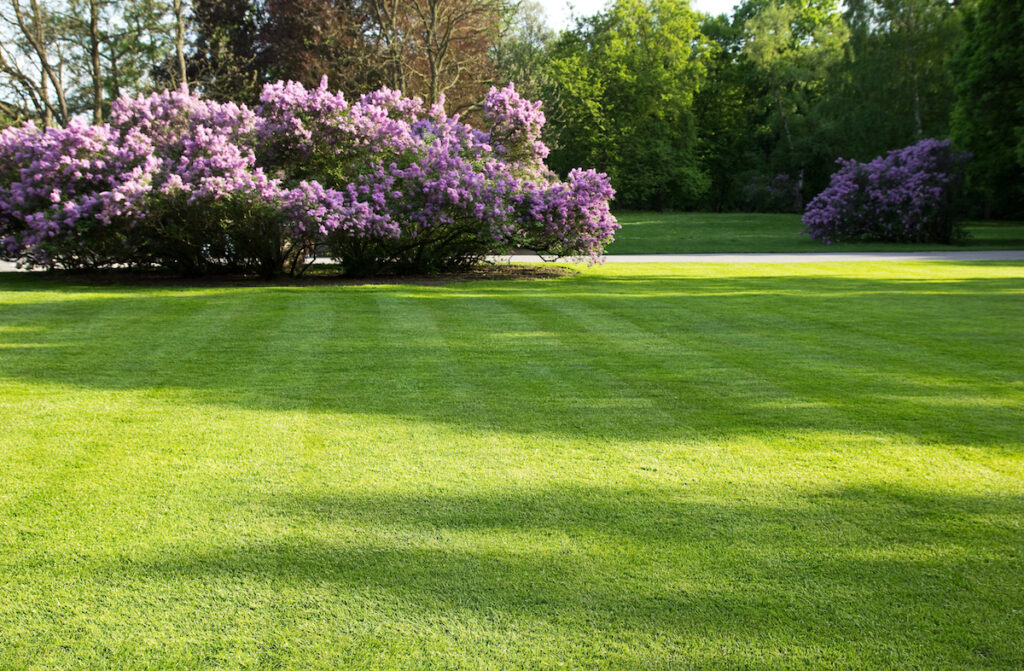 Tree and Shrub Pruning Tips
What are some good tree and shrub pruning tips for residential lawns? Pruning is essential to the grooming of most lawns. Without it, trees and shrubs begin to take over your landscape making it difficult to go through your yard.
Some things to keep in mind while pruning
Prune trees and shrubs in the spring and fall. Pruning in the spring will ensure that the trees are strong enough to withstand the summer heat.
When pruning an unruly hedge, identify the area that you would like to be the tallest spot then prune the rest of the hedge so that it's the same height or slightly shorter. This will give your hedge a more natural look.
Thick branches, up to 2 inches in diameter, should be removed with long-handled loppers; hand pruners usually work fine for smaller branches.
Never remove more than 1/4th of a living tree at once. This can kill an otherwise healthy plant.
Remember that the cut is the key to good pruning! If you are unsure of how to properly prune or trim trees and shrubs, contact Houseman Services for help.
Weed Control
Weeding is one of the less desirable aspects of residential lawn care, however, weeds can wreak havoc on your landscaping if left ignored.
Weeds compete with your grasses for water, nutrients, and sunlight and they are also potential homes for unwanted insects and rodents seeking a nice place to hide. However, before you reach for the herbicide bottle, consider the following tips to rid your yard of weeds naturally and prevent them from coming back.
Remove grass clippings. After mowing, pick up the grass clippings before they have a chance to decompose, otherwise, they could provide nutrition for the weeds to thrive.
Rake up leaves. Fallen leaves will decompose and feed weeds if left laying on the lawn. Use a chipper/shredder, to dispose of leaves easily.
Weed regularly. The best way to get rid of weeds is to prevent them from growing in the first place. It is important to remove weeds before they go to seed or else it becomes much more difficult to get rid of them.
Use mulch to help control weeds. A nice thick layer of mulch not only looks nice, but it prevents weed seeds from receiving the light they need to grow.
Mulch Around Trees
Speaking of mulch, it is one of the many ways Houseman Services can make your residential lawn look beautiful! Mulch is a must-have finishing touch to keep your landscaping looking neat and tidy.
In addition to preventing weeds and boosting your curb appeal, mulch also prevents erosion, moderates soil temperatures, and helps your yard hold moisture longer. The type of mulch used depends on the area the mulch is being applied to and what the mulch is being used for. For example, bark mulch is used to help protect the soil around trees and prevent soil erosion, while decorative mulch is used around flower beds and garden beds.
Think Ahead for Lawn Pest Control
Winter isn't the time to slack off when it comes to pest control, especially here in Georgia. Unfortunately, our mild temperatures allow bugs like Aphids, leafhoppers, and mites to survive year-round which means pests can turn into infestations once summer-like weather arrives. These insects can cause serious damage to your plants, especially when they are in the egg stage or just hatched.
April and May are the best time to conduct lawn maintenance and treatments, before summer conditions resume and insects have a chance to develop into full-blown infestations. As the weather warms up, the ground will become soft and the air humid, allowing grubs, chinch bugs, sod webworms, and white grubs to thrive.
To make sure you don't have an insect or weed problem next spring, plan ahead for pest control treatments now. Call Houseman Services to find out how you can get rid of pests before they become a nuisance.
About Our Tree and Shrub Program
Our 7-Round Tree & Shrub Program is one of the best-kept secrets in Georgia! This year-long program is customized to the needs of your specific landscape and includes seven rounds of applications that protect your trees and shrubs from insects, mites, disease. Each treatment includes beneficial fertilizers to maximize growth, strength, and beauty. Let the experts at Houseman Services care for your trees and shrubs so you can enjoy a beautiful, hassle-free lawn.
Book Your Residential Lawn Care Now
Hiring a lawn care company is the easiest way to ensure that your lawn is mowed, edged, and weeded and that your grass is being fed. While you may be tempted to hire a cheaper service, the lower quality will undoubtedly show in your landscaping. "Weed out" the budget lawn care companies and call Houseman Services to get the best value for your money.
When you're looking for a lawn care company in Georgia, we're the experts. Book now for all of your residential lawn care needs before slots fill up this spring season!