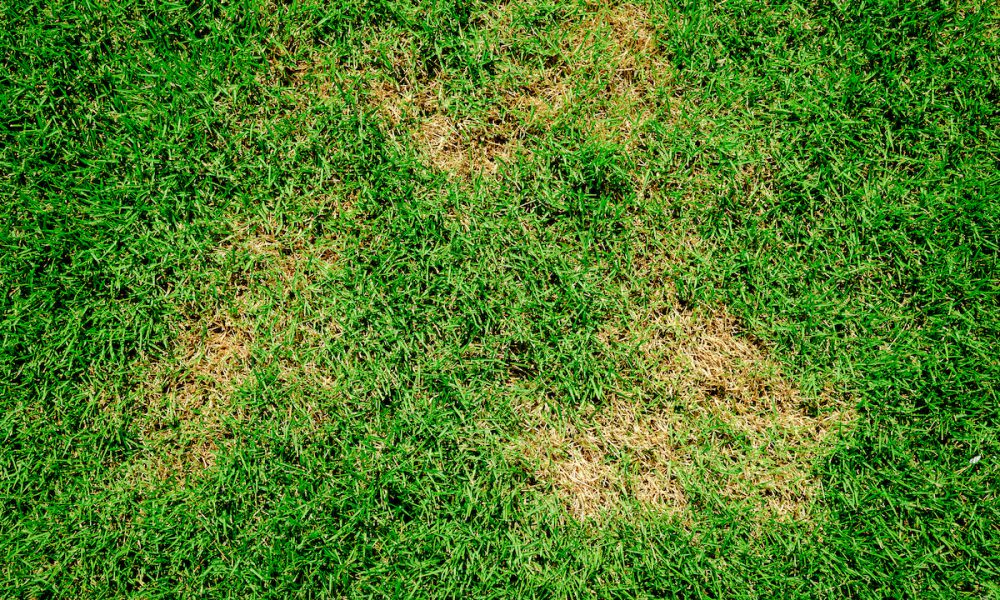 If you have a furry loved one that uses the bathroom on your lawn, dog, then chances are you also have brown spots on your lawn. The reason this happens is because dog urine is rich in nitrogen. Over time the concentrated amounts are known to kill your beautiful grass. This can be extremely frustrating, especially if you love a manicured lush lawn.
Nitrogen
Using a nitrogen-rich liquid fertilizer can have the same effects of dog urine on your lawn. Using a small amount of fertilizer can make your yard healthy, but too much of the nitrogen will kill your lawn or give you yellowing or dead grass. One way to prevent burns or dead grass is to reduce the amount of nitrogen that comes into contact with your grass.
Five Things to Do About It
Follow these tips for a greener and healthier lawn when you have a dog:
Fertilize your lawn less, or not at all, in areas where your dog urinates.

Most fertilized lawns already have as much nitrogen as they can handle to stay beautiful and green. Just a small amount of nitrogen that is in dog urine may be all that is needed to burn your lawn.

Spray areas where your dog urinates with water.

To help dilute the dog urine and lessen the effects of the nitrogen on your lawn, you can pour water directly on the spot after your dog urinates. It is a solution but it can be difficult to time it correctly to pour the water. Plus, if stray dogs go on your lawn and you are not around, this solution will not work effectively.

Encourage your dog to drink more water.

The more your dog drinks water; the less nitrogen will be in your dog's urine. It will be diluted and less damaging to your lawn. Drinking more water will also be healthier for your dog as well.

Replant affected areas with a more urine-resistant grass.

The most urine-resistant types of grass are Fescue and Ryegrass. The most sensitive grass to urine are Bermuda and Kentucky Bluegrass. If you have a damaged yard due to dog urine, you could replant the affected area with Fescue or Ryegrass.

Train your dog to eliminate in one area.

Start training your dog to go in one spot of your yard that isn't as visible to the front of your home where everyone can see it. Some products on the market encourage your dog to pee on or near the location it is sprayed on, such as Simple Solution Pee Post. These products are impregnated with pheromones to encourage your dog to pee in a particular location. Designating a specific area for your dog to pee in will save the remainder of your yard.
If you have any problems or issues with nuisance wildlife, contact Houseman Services at 866-964-PEST as soon as possible so we can treat your home or property?
Houseman Services is the only complete service company in the Athens, GA area. We provide Weed control, fertilization, shrub care, mulch & pine straw, sod, annual plantings, irrigation, and commercial & residential lawn maintenance. We are also state-certified and licensed in wood destroying organisms (termite control), household pest control, public health, and turf & ornamental weed control. We are licensed to control and treat mosquitoes, termites, all pest problems, and turf & ornamental weed control. Contact the professionals at Houseman Services and set up a free inspection of your yard. We have been servicing homes and businesses in the Athens, Clarke County area since 1985!