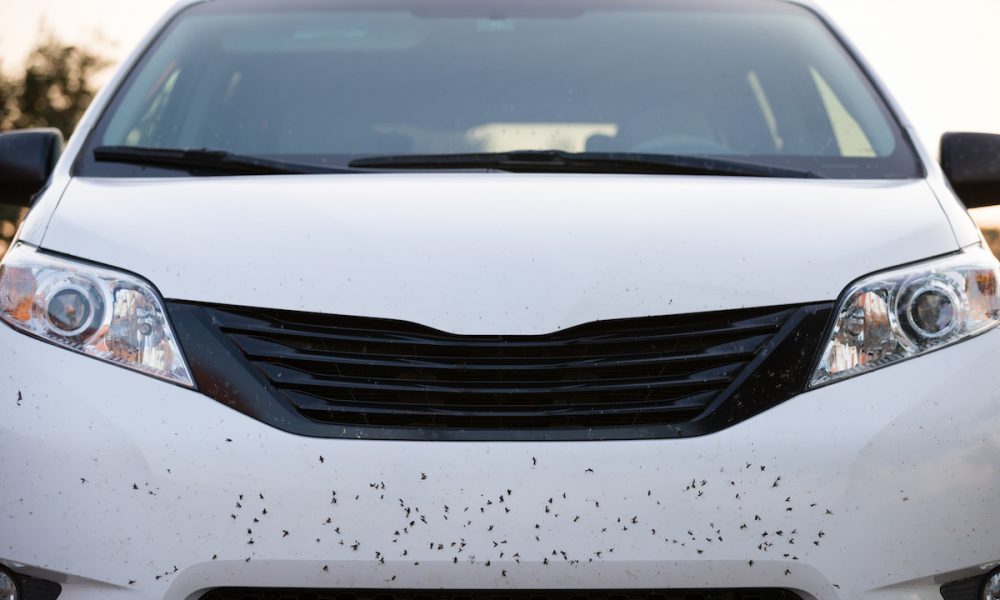 It is officially love bug season. They are showing up everywhere. They are usually coupled up in pairs or groups flying together. You will especially notice them walking outside or driving in Georgia or on your travels to more southern states.
What are love bugs?
The love bug is a family member of the march flies. The adult is a small, flying insect common to the southern United States including Florida, Texas, Alabama, Georgia, North Carolina, South Carolina, and Louisiana. The adult pairs during and after mating remain coupled, even in flight, for up to several days. The love bug is also known as the honeymoon fly or double-headed bug.
No danger, just a nuisance
These bugs do not bite or sting and are not a danger to humans. They are mainly a nuisance for Georgia motorists or any other southern state.
The adults splatter on windshields, lights, grills, and radiators of motor vehicles, and their dried remains are hard to remove. These bugs can adversely affect the paint jobs on cars, pitting and etching the paint if their remains are left on vehicles for more than 48 hours. Every May and September these insects become an annoyance.
Protect your car
There are a few things you can do to protect your vehicle from these pests:
Put a screen over your car grill can keep the bugs out of the radiator
Wash and wax the car before traveling
Spray the exposed areas with the anti-stick cooking products
Spread baby oil over the insect debris to remove it more easily.
Travel at night to avoid these bugs. They are active during daytime hours.
Appearance
Love bugs possess these features:
Small black flies with a dull velvety appearance
Top of the thorax is red
Males are 6-7 mm in length and 6 to 10 mg
Females are 6-9 mm in length and 15 to 25 mg
Season
Love bug season in Georgia lasts about four weeks in April-May and again during August-September.
Mating
Female love bugs lay between 100-350 eggs around decaying material on the top layer of ground soil. Their eggs hatch after 2–4 days. The larvae start feeding on the decaying material around them after they have been hatched. The love bug larvae remain in the larvae phase for approximately 120 days in warmer months and approximately 240 days during the cooler months. After about 7-9 days in the pupa stage, love bugs reach the adult phase and can reproduce.
Contact Houseman Services at 866-964-PEST as soon as possible so we can treat your property?
Houseman Services is the only complete service company in the Athens, GA area. We provide Weed control, fertilization, shrub care, mulch & pine straw, sod, annual plantings, irrigation, and commercial & residential lawn maintenance. We are also state certified and licensed in wood destroying organisms (termite control), household pest control, public health, and turf & ornamental weed control. We are licensed to control and treat mosquitoes, termites, all pest problems and turf & ornamental weed control. Contact the professionals at Houseman Services and set up a free inspection of your yard. We have been servicing homes and businesses in the Athens, Clarke County area since 1985!