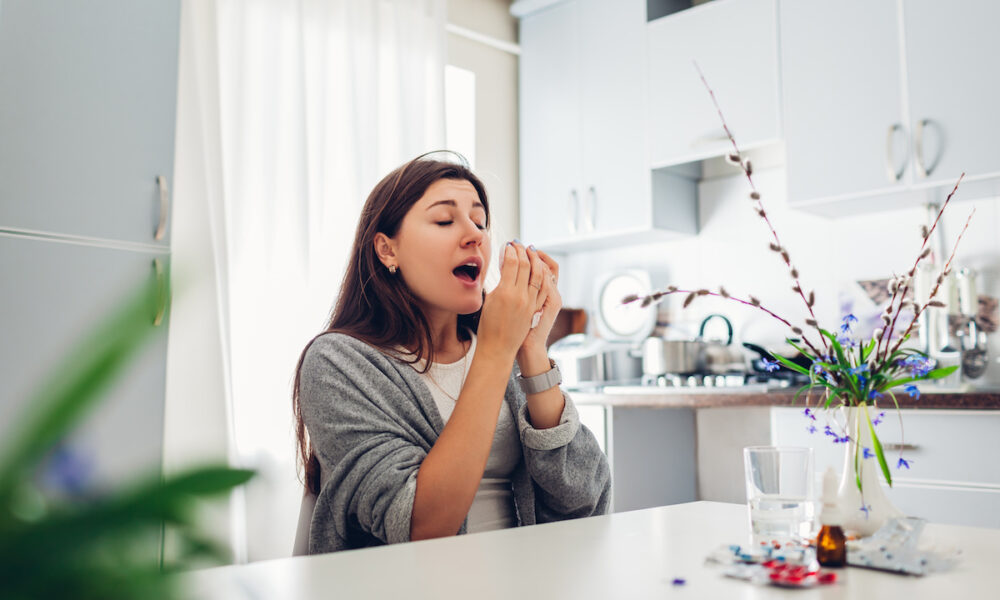 Cockroaches that are running around the home are more likely to spread disease and trigger asthma attacks. Cockroaches are pretty bad for a variety of reasons: they're creepy, ugly, and carry disease. They make your home feel dirty and can quickly ruin your appetite when you spot one in the kitchen. But, are cockroaches bad for allergies and indoor air quality?
When it comes to allergy triggers, studies show that cockroaches are indeed a common allergen. The truth is that cockroaches are not good for allergies or indoor air quality. In fact, cockroaches have been shown to trigger allergic reactions in some people.
If you are concerned about allergies and indoor air quality, you certainly don't want cockroaches present in your home. Whether it's the German or American cockroach, let's discuss what you need to know about these insects and why cockroaches are bad for allergies.
What are the Common Types of Cockroach?
Did you know that there are 4500 species of cockroaches in the world? Only 30 of those are pests, and two of those 30 you will likely find in your home.
American Cockroach: The American cockroach is the largest species of cockroaches. Its body length ranges from 1.5 inches to 2.5 inches. It is brown in color with reddish or yellow marks on the wings. It is also a scavenger. It can be found in sewerage facilities, stormwater drains and outside trash cans.
German Cockroach: The most common type of cockroach found in homes is the German cockroach. The German cockroach can be brown or black in color, and it produces a distinctive, unpleasant smell. The German cockroach is also the most resilient cockroach species and can be found on every continent on earth, except Antarctica. This roach is smaller than the American cockroach.
Regardless of the type of cockroach you find in your home, they pose a variety of threats to your home and health.
Health Problems from Cockroaches
What health problems do cockroaches present to your household? Unfortunately, there are a variety of health issues that are brought on by cockroaches.
Who gets sick from cockroaches? While most people do not get sick from cockroach bites, some individuals are more sensitive to the saliva that the cockroach releases. This saliva that the cockroach releases will cause a severe allergic reaction to the person who is bitten by the roach.
Another reason why people get sick from cockroaches is because of their shedding. Roaches shed their body parts (like legs, wings and antennae) as they crawl through your house. When you accidentally eat these parts, you get sick. Yikes!
If you are allergic to these parts, you can get very sick. The parts can block your throat and lungs, making it hard to breathe. Cockroaches can also spread bacteria to you, causing food poisoning. This is one reason why you should always wash your hands after you kill a roach.
Other health issues that cockroaches may cause include:
Bacteria Transfer
Cockroaches, who thrive in warm and damp environments, can spread bacteria from their bodies onto your household surfaces. They can also carry bacteria on their bodies and contaminate home environments. If you or your family comes into contact with cockroaches, you're likely to pick up the bacteria that they carry. This is particularly dangerous for children who are more likely to pick things up and put them in their mouths.
Intestinal Diseases
Did you know that cockroaches can cause intestinal diseases in humans? It's true. Roaches that contaminate food, utensils, and other items with their feces, body parts, and saliva can transmit bacteria, viruses and protozoans, such as Salmonella, Cholera, and Dysentery. They can also transmit Shigella and E. coli. These are all sources of potential food poisoning. The best way to avoid these problems is to keep cockroaches out of your kitchen.
Allergies
Allergy symptoms can be triggered by the saliva of cockroaches that are left behind. When the saliva dries onto surfaces, the saliva can be transferred to your body. This can cause an allergic reaction. Cockroaches have also been known to leave behind fecal material which can also cause an allergic reaction. Some people who suffer from asthma report asthma attacks from cockroach allergens.
Symptoms of Cockroach Allergies
How do you know if you have allergies from cockroaches? Several symptoms of cockroach allergies include sneezing, runny nose, itchy nose or eyes, skin reactions, wheezing, asthma, and swelling of the lips, tongue, throat, and eyelids.
Cockroach Bites and Allergies
Cockroach allergies usually do not lead to a reaction like you see in some allergy sufferers to an insect bite. In fact, cockroach allergy symptoms are usually from bites
Asthma Attacks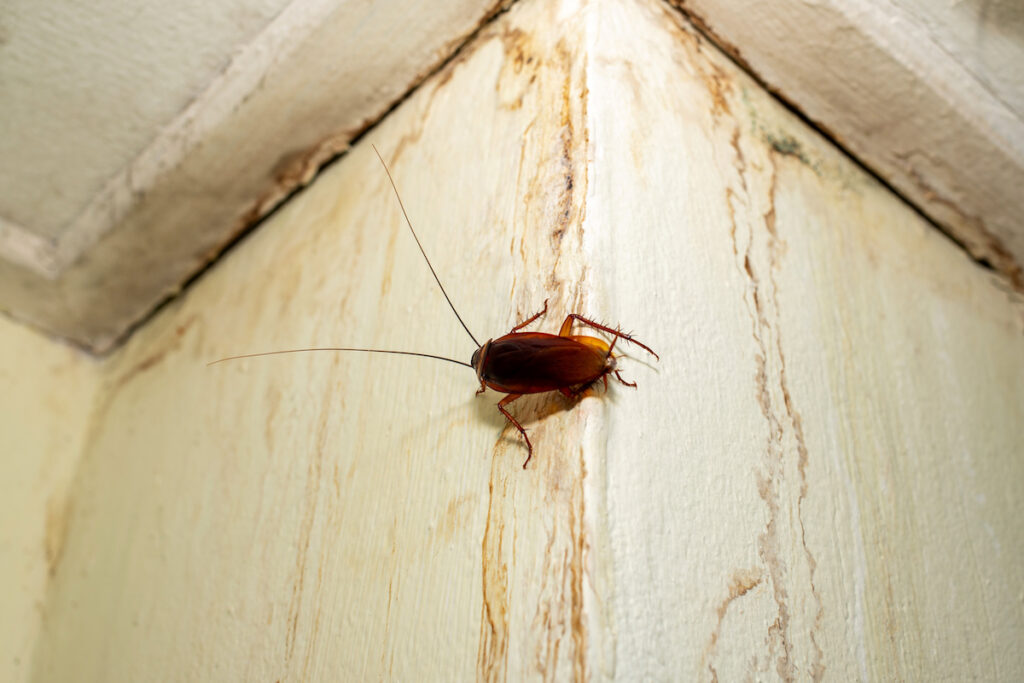 Can cockroaches trigger asthma attacks? Yes. This is because their saliva can cause asthma attacks in those who are allergic to cockroaches. If a cockroach causes an asthma attack, you may experience wheezing, chest tightness, and chest pain. Your face may become flushed, and you may feel lightheaded and nauseous.
Are Cockroaches Bad for Indoor Air Quality?
In addition to mold and mice, cockroaches are one of the top contenders to poor indoor air quality. Once again, the issue with cockroaches and indoor air quality comes down to their shedding and salvia.
As pests, cockroaches will spread disease and contaminate food. Studies have shown that cockroach allergens and pesticides can enter the indoor environment through leaky walls and vents. This can cause asthma, allergies, and other respiratory-related symptoms.
How to Improve Indoor Air Quality and Allergens from Cockroaches
Are cockroaches bad for allergies and indoor air quality? Absolutely. The best way to prevent poor indoor air quality and allergens from cockroaches is prevention. If you already have cockroaches in your home, you'll need to get rid of them to protect your health.
Cockroach Prevention for Indoor Air Quality and Allergies
Luckily, prevention is one of the easiest ways to help improve your indoor air quality in relation to cockroaches. Several steps to take to prevent a cockroach infestation include:
Inspect the interior and exterior of your home for cracks and holes that can allow access for cockroaches by sealing cracks and holes with a good silicone-based caulk.
Doing routine inspections and sealing entry points of your home is a must for prevention.
Cockroaches are known for being scavengers. Make sure food scraps and trash are disposed of properly. Also, make sure all dishes are properly cleaned and rinsed.
Remove all clutter and dispose of garbage promptly. This will make it much harder for them to hide, and it will remove food sources.
Remove all food sources, like pet food and other leftovers, and keep food covered when not in use. Keep counters and sinks clean and free of crumbs.
Make sure to clean the sink after each use, including any leftover food. Use trash cans with lids that fit tightly.
Keep your house clean and tidy, especially in terms of removing clutter and leftover food.
Cockroach Removal
You have a cockroach infestation that's causing air quality and asthma issues in your home. What should you do now?
There are several steps to take to eliminate a cockroach infestation, which typically requires the help of a professional exterminator. It's important to know that cockroaches can be very persistent.
These persistent pests can continue to multiply and spread throughout your home in a very short amount of time. This is one of the reasons why it's so difficult to get a handle on cockroach removal.
Ridding your home of cockroaches, and the pests that attract them requires a very thorough inspection of your property so you can find all the hiding places and potential entry points that the cockroaches are using to get inside. It's very easy to overlook entry points for cockroaches, which can easily lead to an infestation.
You'll also need help determining the reason behind the infestation. Several factors can cause an infestation of cockroaches including a dirty kitchen, dead animals in the walls, and a water leak.
Think Twice Before Spraying Cockroaches with Pesticides
The first thing you should do is to call in a professional exterminator to get rid of them for you. One thing you should never do is to spray the roaches yourself. Spray pesticides can cause breathing issues for your family and pets, so it's better to not use them at all. This will only aggravate the situation with your allergies and indoor air quality unless you know the proper steps to take.
Are Cockroaches Bad for Allergies? Improve Indoor Air Quality & Allergies with Cockroach Removal 
If you have experienced a cockroach problem, you know that they are difficult to get rid of. The use of pesticides can also be a potential health hazard. There are also certain species of cockroaches that have grown to become immune to pesticides.
With the help of Houseman, we can get rid of cockroaches which will ultimately improve indoor air quality as well as allergies. Contact us today to learn more.