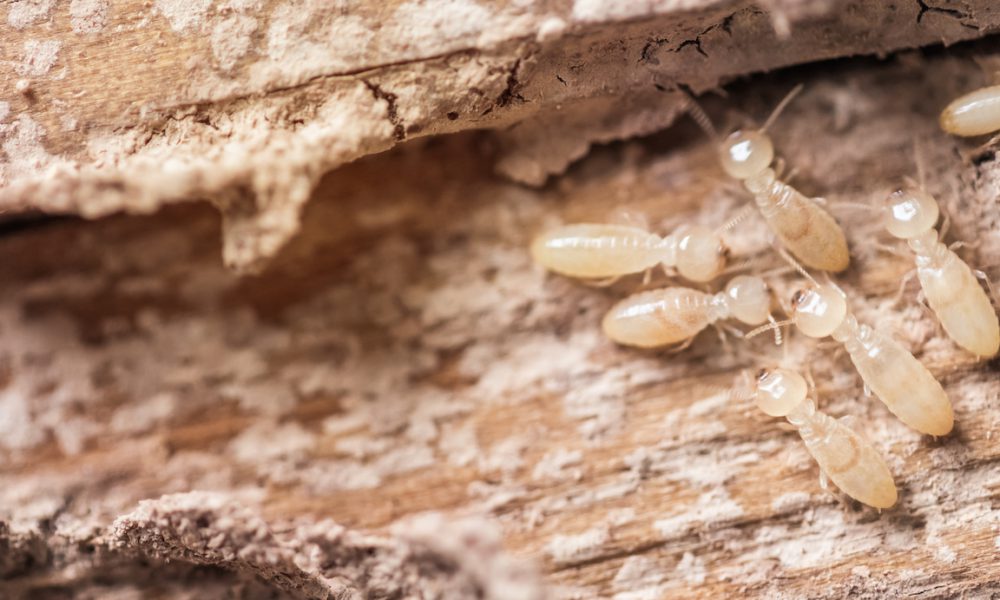 You have just found one or more of these classic symptoms of a termite infestation in your home or property:
Small holes in drywall
Mud tubes along the foundation or walls
Hollow wood
Earthen packing
Mounds of droppings near entry points
Piles of shed wings
Maze patterns in the walls and floors
Great! Now, what do you do?
Termites – What to Do?
If you discover termites at your home, it is crucial that you immediately contact an exterminator to stop the damage. Depending on the severity of the infestation and damage, the exterminator will suggest one of several options:
Physical barrier
Baiting
Chemical barrier
Fumigation
Physical Barrier
The coverage of all soil spaces in an impermeable layer, such as plastic is a method of physical barrier.
Baiting
"Termite baiting employs a very different approach. With baits, small amounts of product are deployed like edible 'smart missiles' to knock out populations of termites foraging in and around the home. Termites consume the bait and share it with their nest mates, resulting in a gradual decline in termite numbers. A comprehensive baiting program then seeks to maintain a termite-free condition on the customer's property through ongoing inspection, monitoring and re-baiting as needed," explains Entomology at the University of Kentucky.
Chemical Barrier
Chemical termite barriers are sprays that can act as either a deterrent or an exterminator.
Fumigation
Fumigation is the last option when all else fails. When infestation is so severe especially in inaccessible area, tent fumigation is the only option. Termites are able to live in areas that we don't necessarily see such as walls, beams, and underneath floorboards. The gas reaches every area and deeply penetrates its wood structures where termites live and feed during a tent fumigation. Once the home is completely aerated and cleared properly, it leaves behind no residue on household items.
In the event that these options are applicable, it would be wise to begin choosing a pest control company.
Pest Control
Hire a Pest Control Service to perform an inspection and give you the analysis of the problem with their treatment solution.
If you see any evidence of unwanted insects in your home or business, contact a pest control company immediately to take care of the issue.
Houseman Services is the only complete service company in the Athens, GA area. We provide Weed control, fertilization, shrub care, mulch & pine straw, sod, annual plantings, irrigation, and commercial & residential lawn maintenance. We are also state certified and licensed in wood destroying organisms (termite control), household pest control, public heath, and turf & ornamental weed control. We are licensed to control and treat mosquitoes, termites, all pest problems and turf & ornamental weed control. Contact the professionals at Houseman Services and set up a free inspection of your yard. We have been servicing homes and businesses in the Athens, Clarke County area since 1985!