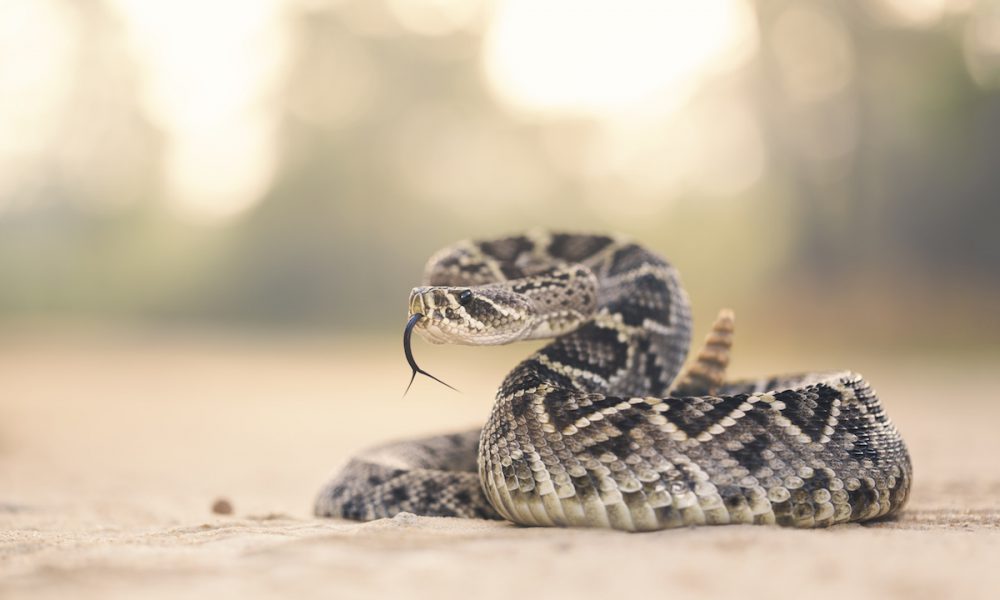 "The eastern diamondback rattlesnake is the largest venomous snake in North America," reports National Geographic. Here is information about the Eastern Diamondback Rattlesnake.
Description
Crotalus adamanteus is a pit viper species found in the southeastern United States. No subspecies are currently recognized.
The eastern diamondback rattlesnake is the largest of the 32 species of rattlesnake currently recognized. They are large, heavy-bodied snakes with large, broad heads with two light lines on the face. The background color is brown, tan, or yellowish and covered with the namesake diamonds, which are brown and surrounded by lighter scales.
Size

Males are larger than females. Adults are usually 33-72 inches long, but the largest individual on record was 96 inches. Mature snakes can tip the scales at over 10 lbs. It is the heaviest, though not the longest venomous snake in the Americas and the largest rattlesnake.
Habitat and Behavior
Diamondback rattlesnakes are restricted to the Lower Coastal Plain of the Southeast, from southern North Carolina to eastern Louisiana, although the stronghold of their range is in Florida and southern Georgia.
These stout-bodied pit vipers generally live in the inhabits dry sandy areas, palmetto or wiregrass flatwoods, pinewoods, coastal dune habitats, or hardwood hammocks from southern North Carolina to Florida and west to Louisiana. They generally avoid wet areas but sometimes live along the edges of swamps. They are accomplished swimmers and even travel through saltwater to and from barrier islands. In many locations this species relies heavily on gopher tortoise (Gopherus polyphemus) burrows during winter months.
Their pattern of yellow-bordered, light-centered black diamonds makes them among the most strikingly adorned of all North American reptiles. They are natural exterminators, surviving on such household pests as rats and mice, as well as squirrels and birds.
Dangerous

Feared as deadly and aggressive, diamondbacks are actually highly averse to human contact and only attack in defense. Most bites occur when humans taunt or try to capture or kill a rattlesnake. They can accurately strike at up to one-third their body length.
Venom / Bite
Diamondback venom is a potent hemotoxin that kills red blood cells and causes tissue damage. Bites are extremely painful and can be fatal to humans. However, antivenin is widely available throughout the snake's range, and bites rarely result in death.
Distinctive Rattle
When cornered, rattlers feverishly shake their iconic tails as a last warning to back off. Rattles are made of loosely attached, hard, hollow segments. Snakes add a new rattle segment each time they shed. However, rattles break off frequently, and snakes may shed their skin several times a year, so it is not possible to determine a snake's age by its rattle size.
Threats to Survival
The eastern diamondback is not endangered, but because of indiscriminate killing, widespread loss of habitat, and hunting, its numbers are decreasing throughout its range.
If you see any signs of snakes, call a professional pest control company sooner than later to handle it for you especially if it is a venomous one! To learn more, read our blog 6 Venomous Snakes in Georgia.
Houseman is the only complete service company in the Athens, GA area. We provide Weed control, fertilization, shrub care, mulch & pine straw, sod, annual plantings, irrigation, and commercial & residential lawn maintenance. We are also state certified and licensed in wood destroying organisms (termite control), household pest control, public heath, and turf & ornamental weed control. We are licensed to control and treat mosquitoes, termites, all pest problems and turf & ornamental weed control. Contact the professionals at Houseman Services and set up a free inspection of your yard. We have been servicing homes and businesses in the Athens, Clarke County area since 1985!