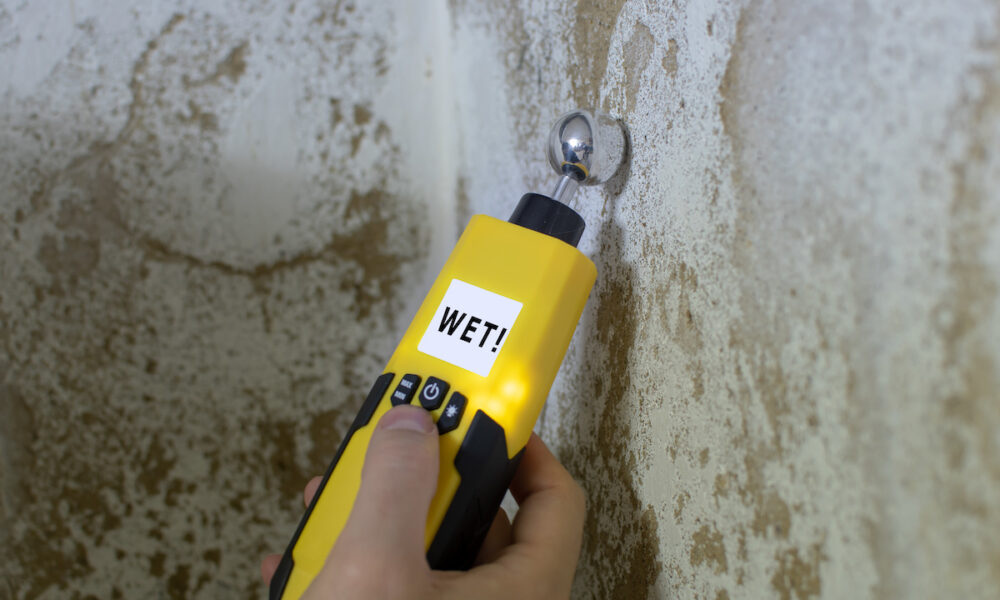 The winter season is here, which translates to wet and soggy weather. Temperatures are dropping, especially at night, which might have you reaching for the thermostat. However, the weather and using your furnace can result in plenty of moisture buildup in the home. If you are wondering how to prevent moisture in your home, we'll show you how to keep moisture at bay with techniques including crawl space encapsulation.
Understanding Moisture and Humidity Levels
The first step is to understand the natural cycles of moisture and air movement in the home. When we are talking about moisture, a lot of this translates to humidity levels in the home. But what is humidity?
First, Dry air has a dew point of 55° (meaning the temperature at which a hypothetical mass of saturated air at that temperature would condense into a cloud). As the temperature of the air rises, so does the dew point, since more moisture can be held as the air becomes warmer.
Humidity is a measure of the amount of water vapor in the air. Water vapor is the gaseous state of water. The amount of water vapor in the air is determined by the temperature of the air and the amount of moisture in the air.
This is why the more moisture in the air, the higher the humidity level will be. The higher the humidity level, the more moisture that needs to be removed from the air.
Too much moisture in the air is called "relative humidity".
What Humidity Level is Acceptable for the Home?
If you want to know how to prevent moisture in your home, know that you don't necessarily need to have zero humidity in your home. In fact, inadequate moisture and humidity levels in your home can lead to problems include:
Dry Skin
Itchy and irritated skin
Chapped lips
Worsening of eczema, dandruff and other skin conditions
Impaired immune system
Dry hair that tends to break easily, have split ends and become weak
Grass allergies and other allergies such as those for dust mites and mold
Sinus, cold, and flu symptoms
In addition to health problems, low humidity is also bad for your home on several levels. You might experience issues such as:
Cracking of concrete
Peeling paint
Problems with wooden furniture and floors
Problems with some man-made materials, such as carpet fibers.
Extremely low humidity can cause problems in your home and with your health. Most homes have a relative humidity of about 30% to 45%. Any lower than 30%, and you will feel the effects of low indoor humidity on a physical level as well as issues with your home.
What are the Signs of High Humidity in the Home?
You already know about the signs of low humidity in the home. If you are wondering how to prevent moisture in the home, you are likely concerned about high humidity levels.
Humidity levels above 45% are creeping into high humidity territory. If you don't have a thermostat that measures the humidity of your home, you can tell if humidity is too high with the following signs:
You are running your humidifier constantly (but not enough to dampen the carpeting)
You discover mold and mildew growing on walls
Your window air conditioner condensate is overflowing
Clothes, draperies and bedding feeling damp
Personal health concerns, including chapped lips, nosebleeds and sinus headaches
Mildew growing on walls and floors
Mold in the bathroom and on shower curtains
Rising utility bills
Condensation on hardwood floors, where moisture seep through the floorboards from the basement
Damp, musty odors, especially in the basement and lower floors of the home
Condensation on windows
A note about condensation on windows: condensation on windows is normal to an extent. If the moisture doesn't wipe away, this means there is a seal failure and your window isn't working properly. However, if the condensation wipes away and you notice issues such as peeling or rotting wood frames, there is indeed a moisture problem in your home.
What Causes Too Much Moisture in Your Home?
If you want to know how to prevent moisture in the home, you'll need to know what causes moisture buildup in the first place. So what are the causes of high humidity?
One issue of high humidity is an improperly functioning HVAC system. If the temperature drops but the humidity still feels high, then the system is not effectively removing the humidity from the air. Most of the time, you are dealing with a problem with the air handlers. High temperatures make it more difficult to remove moisture from the air.
Other reasons for high humidity levels in the home include:
Everyday activities including cooking or running the dishwasher
Showering and bathing can increase humidity levels in the home
House plants can contribute to high humidity levels
Improperly performing windows can cause your home to become too humid
A basement that cannot release humidity properly will result in high humidity levels
Soil that penetrates the home's exterior can yield high humidity levels
The key to de-humidifying the home is removing moisture before it has the opportunity to condense on the wall where it is extremely difficult to remove. This means that you need to take preventative steps to remove moisture in the home before it causes problems.
How to Prevent Moisture in the Home
Wondering how to make your home more water-tight? We're now getting to the good part: how to prevent moisture in your home while keeping humidity levels in check!
If you want to prevent moisture in the home, there are several ways that you can achieve this such as:
Remodeling, repairing, and painting your home can be a great way to make it more water-tight and reduce moisture problems
Most people don't realize that bathroom sinks and showers are major trouble spots in the home where moisture is concerned. This is why running your bathroom fan is an important element of controlling high humidity levels.
Don't leave the faucet running while you brush your teeth or wash your hands. This is a huge money-waster and it also contributes to humidity.
Caulk/Weatherstrip/Seal Leaks – Sealing up cracks and leaks in your home can be some of the most effective ways to reduce moisture in your home. You may be surprised where you find leaks! Small holes in windows and doors, cracks in the shower, and loose weather stripping are some common sources of water leaks in your home.
Proper Ventilation: Stagnant indoor air can be a major cause of moisture problems in your home. And stagnant indoor air can be a result of poor ventilation.
Lastly, you'll want to consider your basement in terms of humidity levels. Whether you spend a lot of time in your basement or none at all, humidity levels in this area of the home need addressing, especially if you are experiencing health problems.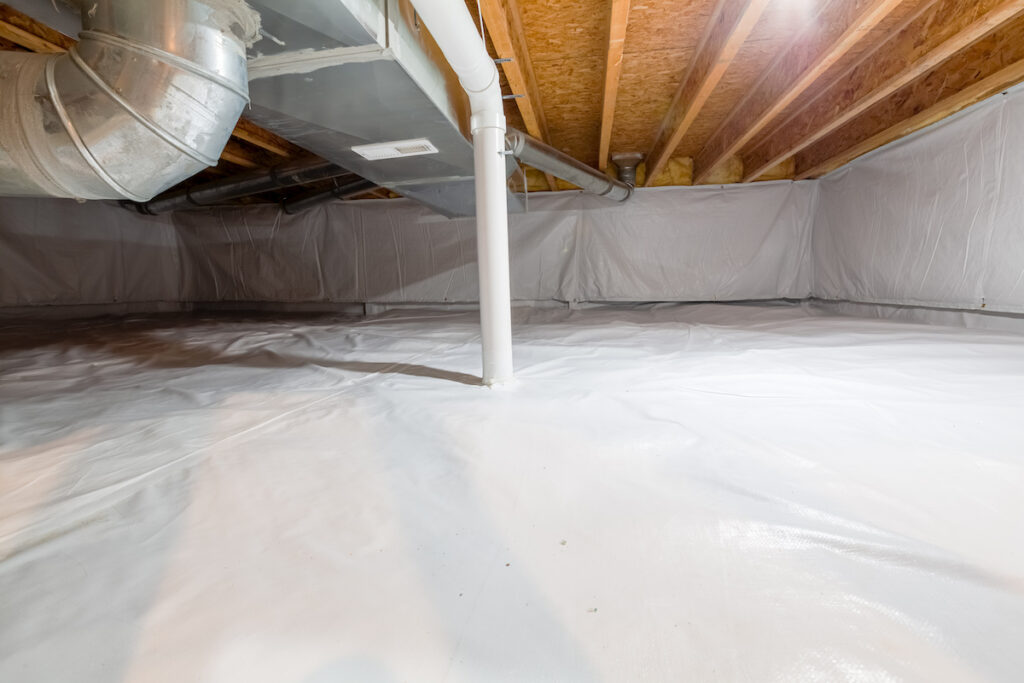 How to Prevent Moisture in the Home with Crawl Space Encapsulation
Many of us don't think much about the crawl space underneath your home. After all, it's probably full of dirt and bugs. But the truth is that this crawl space can make a big difference in terms of humidity levels in your home.
What is the right humidity level for your basement? You'll want to keep this area at a humidity level of around 25% to 40% during the winter months. In the summer, you'll typically find humidity levels around the same as the main living area of your home. De-humidifiers and exhaust fans can help, but it's certainly not the same as crawl space encapsulation.
The idea of crawl space encapsulation is to improve the air quality of your home. It also helps to prevent mold and wood rot, which are two large culprits that occur from high humidity levels in the home.
Sealing the crawl space will stop the cycle of moisture and humidity making a negative impact on your home. Best of all, crawl space encapsulation also makes a clean and tidy space that you can use for storage. You'll no longer need to worry about rodents, dirt, mold, and yes—moisture.
How to Prevent Moisture in the Home: Contact us for Help
Are you struggling with high humidity levels in your home? Humidity levels can have a negative impact on your health, as well as home performance. Here at Houseman Pest, we'll see to it that humidity problems stemming from your crawl space will come to an end. We are also on call to assist with pest problems ranging from rodents to termite infestations.
Ready to get started? Contact us today!