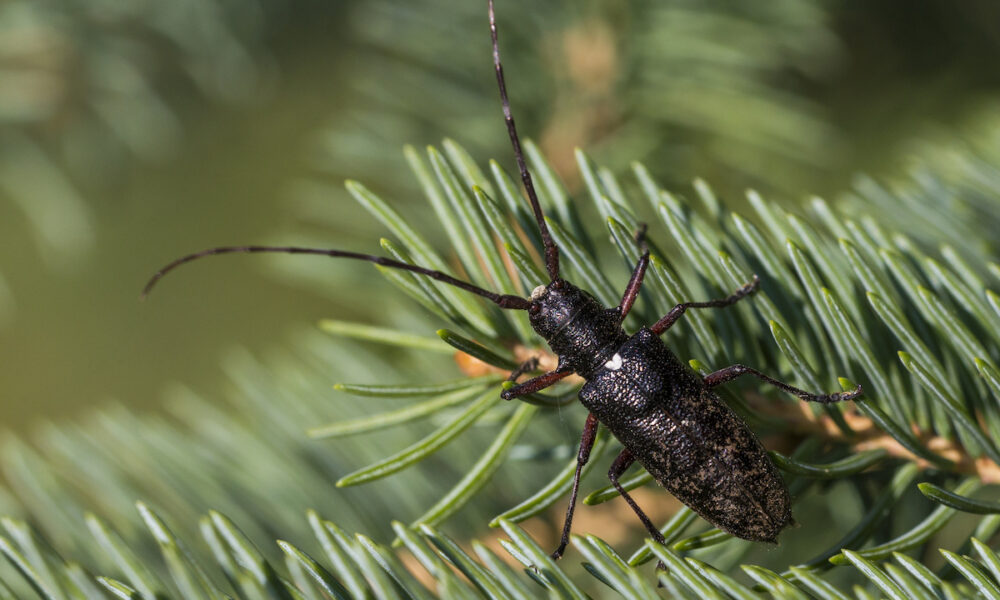 The holidays are here and most of us are working on spreading good cheer. But there is something lurking inside your tree that might be even worse than the Grinch—a bug infestation.
Is there a bug infestation in your Christmas tree? Hopefully not, but this is an unfortunate event that happens to many people during the holiday season. If you choose to invest in a live Christmas tree, they bring a lot of beauty to your home. 
However, you have to remember that this tree was living and growing outside just until recently. During that time, it's easy for different types of bugs to find Refuge inside of the tree. In fact, you might find up to 25,000 bugs inside of a single Christmas tree. Yuck!
If you are seeing bugs, or even a bug infestation in your Christmas tree, read on to learn more information.
What Kind Of Bugs Are Living In Your Christmas Tree?
Are you wondering about the common types of bugs you may find in your Christmas tree? You'll likely spot one or more of the following:
Aphids
Aphids are very small insects that like to suck sap out of trees. Some of the most common names include the blackfly and greenfly. The most common Aphid you'll find on a live Christmas tree is the giant conifer aphid. These aphids stay in colonies on trees outdoors. Small colonies and even live infestations are typically overlooked by tree farms. It's also easy for families to overlook aphids while they cut down the tree as they are quite small and hard to see.
Many people mistake the giant conifer aphid for a tick. When you bring Aphids into your home, the warmer indoor atmosphere may cause the aphids to stir and move out of the tree.
How to Get Rid of Aphids on Your Christmas Tree
Have you discovered Aphids in your Christmas tree? If you're wondering how to get rid of them, there are several options. If the tree isn't decorated, one place to start is taking the tree back outside. You'll want to shake the tree out as much as you can and then vacuum up the bugs.
An even better option is to return the tree to the tree farm or lot and get it replaced. Be sure to carefully inspect any tree that you bring into your house afterward.
Meanwhile, you don't want to smash Aphids when you find them, especially on your carpet because they stain. There is also no reason to use insecticides on the Christmas tree, as you can get rid of them by shaking them out and vacuuming the three.
Spiders & Mites
What are some other common bugs you'll find in your Christmas tree? Spiders and mites will give you a not-so-merry surprise when you find them in your Christmas tree.
Spiders and mites are most commonly found on Douglas fir Christmas trees as well as Fraser firs and spruce trees.
Oh Golly Gee, Spiders are in my Christmas Tree!
Finding spiders in your Christmas tree isn't very uncommon. The sticky sap coming from the Christmas trees attracts a range of pests, including spiders. Interestingly enough, Ukrainians decorate their Christmas trees with spider ornaments because they believe the spiders are lucky!
Understandably, you likely do not plan to use spiders as a Christmas tree ornament or decoration. You'll likely find them alive inside the Christmas tree, or possibly dead. Either way, spiders are not a welcome presence for any holiday tree.
If you find spiders in your Christmas tree, what should you do? One idea is to apply a pest repellent. You can also use essential oils, which can help prevent daddy long legs from infesting your Christmas tree. You can also try a DIY pesticide, consisting of water and soap. Spraying on a schedule will help kill off spiders as well as their eggs. You may end up noticing spiderwebs in your Christmas tree before you find the spiders themselves.
You can breathe a sigh of relief that spiders in your Christmas tree are uncommon. Any spiders that you may find in the Christmas tree are not going to harm you. The most dangerous spiders in our state, the black recluse in the black widow, do not live in pine trees, so you do not have any cause of concern for this.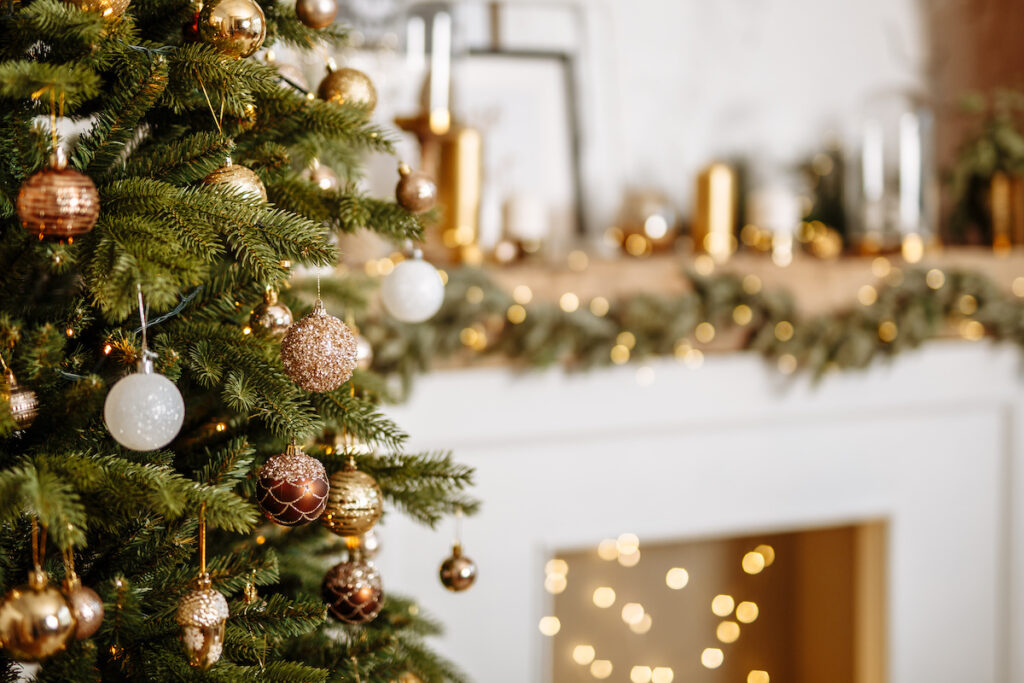 What About Christmas Mites?
Mites are bad news when it comes to your Christmas tree. They can eventually begin to kill off the Christmas tree, causing her to turn brown and looking unsightly. One particular mite you will find on Christmas trees is the rust mite. Rust mites suck the juices from the pine needles, which makes the Christmas tree look rusty, hence the name.
Spruce spider mites are another type of mite that you may find in the holiday trees. Spruce spider mites will cause your Christmas tree to turn yellow, or become bronze with speckling on the needles. These are feeding spots of the mites, and once the tree turns bronze it will usually drop the needles prematurely.
Lastly, another mite that you may encounter in the Christmas tree is the Admes might. Admes mites are usually found on white spruce trees or Black Hills Spruce trees, as well as Colorado blue spruce and Norway spruce. These mites are larger than the spruce spider mite, and they come in a dark red and brown color with light tan legs.
Bark Beetles
One of the last common Christmas tree pets that you will encounter is the bark beetle. Bark beetles are selling charcoal, coming in a brown or black color. These are wood-boring insects and they are very small, about the size of a grain of rice.
If you have a bark beetle infestation, you will notice several signs. One of those signs includes small holes in the trunk or the branches of the tree. You may even notice sawdust appearing on the floor.
Species most susceptible to bark beetles include white fir trees and juniper.
Praying Mantis
Lastly, you may find an unexpected guest inside your Christmas tree when you get home: the praying mantis. Georgia has both negative and non-native species of praying mantis living in our state. Not only can you find living praying mantises in your Christmas tree, you can also find egg sacs!
It's not uncommon for a praying mantis to lay eggs and Christmas trees. It is actually a good idea to check the trees for the eggs. If you find a walnut sized egg mass in the Christmas tree, clip it from the branch and put it outside. The masses will look similar to pinecones, and inside there are up to 200 praying mantis eggs. The warmth of your home may accelerate the time that it takes for the praying mantis eggs to hatch.
It's especially important that you remove the egg sack from the Christmas tree. This is because if you leave the egg sac intact and the eggs hatch, the baby praying mantises will starve.
Luckily, the bugs that you might find in your Christmas tree are likely not going to harm you. It is unlikely that they will bite you or destroy anything in your home. These bugs are not as serious as a cockroach or ant infestation. Typically, the air in your home is too warm and dry for most of these bugs to survive.
The good news is that there are several ways to get rid of bugs and Christmas trees. However, if you find a praying mantis or eggs inside your Christmas tree, please take them outside and do not attempt to use pesticides.
How to Get Rid of Bugs in Your Christmas Trees
By now, you are probably wondering how to get rid of bugs that you find in your Christmas tree. There are several effective ways to get this job done.
If you have yet to get your Christmas tree, be sure to examine the tree before you bring it home. You will want to look at the underside of the branches as well as a trunk. Be sure to prune any branches that you find that may contain exacts or Birdsnest. Another good idea is to leave the Christmas tree in the garage or somewhere outside for a few days.
Next, take a white sheet and wrap it around the Christmas tree. Vigorously shake the tree do you hear of any potential bugs. You'll then want to vacuum up any bugs that you find inside the tree or around the tree and sheet. You can vacuum the tree whether you already have it set up inside your home or it is outside and waiting to be put up.
Yet again, the majority of bugs that you find inside your Christmas tree are not going to harm you or anything in your home. However, if you find bugs such as ants in or around your Christmas tree, this is A different cause for concern. Please contact us if you have questions or concerns about the bugs in your Christmas tree. We are happy to help!