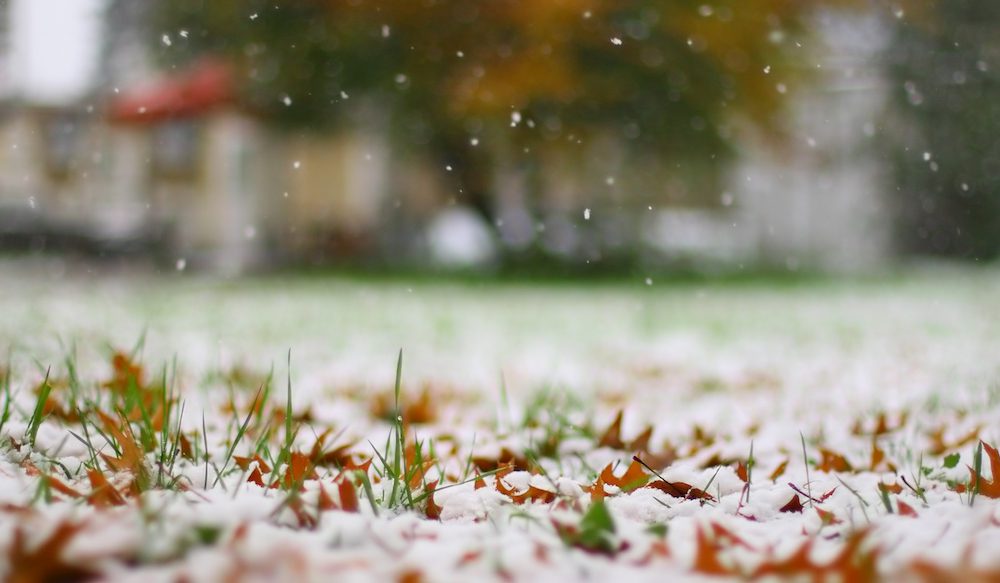 Winter is here! As we enter the new year and arguably some of the coldest months of winter, proper lawn care is essential. In Georgia's winter, our lawns are subject to a fair amount of snow and the occasional freeze. Whether or not we experience a severe winter this year, it is important to maintain the proper upkeep of our lawn year-round. Winter is considered the dormant season for a lot of common plants we have in our lawn – including specific species of grass.
Be sure to keep your lawn lush and green as we go through winter and head to spring with these tips:
Winter Lawn Care Tips
As opposed to the summer months, winter comes with weather and conditions that require some changes to your regular lawn care. If you are unsure about the best course of action for your lawn, consult with Houseman Services. Our experts can help you get on the right track so you are just maintaining your lawn – rather than replacing it.
Sprinklers
If you have sprinklers installed on your lawn, consult with an expert about a winter sprinkler schedule. Lawns can easily be over-watered during the winter if your sprinkler system is still calibrated to the summer growing season. It is still recommended your lawn receives the standard "one inch of water per week".
Any more than this can be overkill. Warm seasons allow your lawn to soak up more water. During the winter in Georgia, your lawn may not be getting as much water as it did during summer. Be sure to monitor your lawn and adjust accordingly.
Avoid Heavy Traffic
During the winter, your lawn is not as resilient as it is during the summer. Heavy traffic on your lawn is not as detrimental during the summer because your lawn can bounce back. Throughout the winter months, grass can go dormant, this can cause it to go weak or be brittle. The grass redirects its energy into the roots' system during the dormancy periods.
Additionally, in the morning your lawn may be covered by a morning frost. Be sure to avoid heavy traffic on your lawn because it most susceptible during this time. Avoid walking directly on the lawn in the same area or parking your car on the lawn.
Remove any Debris Covering Your Lawn
Organic debris can include leaves, tree branches, and more. Leaving too much of this organic debris on your lawn can suffocate your grass. In some cases, it can even lead to disease and the build-up of bacteria. Removing any heavy buildup of grass from your lawn allows your lawn and its root system the room to breathe. This will help it to soak up important nutrients and sunlight that are vital to its health.
Consider a Winter Sod Install
If your lawn is not pleasant to walk on and resembles somewhat of a swamp, consider a winter sod install. Though the roots of the sod will be dormant and grow very slowly during winter, when springtime comes around the roots will take off easily.
It is important to note that you need to be careful about doing this. During this time of the year, your yard is fragile and more sensitive to change. If you do choose to rip up your current root system, it could cause more problems later in the year. Consult with an expert on the best way to install winter sod for your lawn or if it is necessary at all.
Aerate Your Lawn
If your home happens to have a tall fescue lawn, then fall is the best time to aerate your lawn. During winter, tall fescue can still take root during these months. The best defense against weeds is a healthy lawn. Invasive weeds that might germinate during the winter months can be avoided by maintaining a healthy lawn now.
By aerating your lawn, you alleviate any soil compaction. This will help your lawn receive the optimal amount of air, water, and nutrients.
Speak to an Expert Today
At Houseman Services, we pride ourselves on being experts on lawn care and pest control. We can answer any questions you have about keeping your lawn healthy and beautiful. Speak to one of our experts today to set you up with a plan to keep your lawn lush and beautiful all winter long.