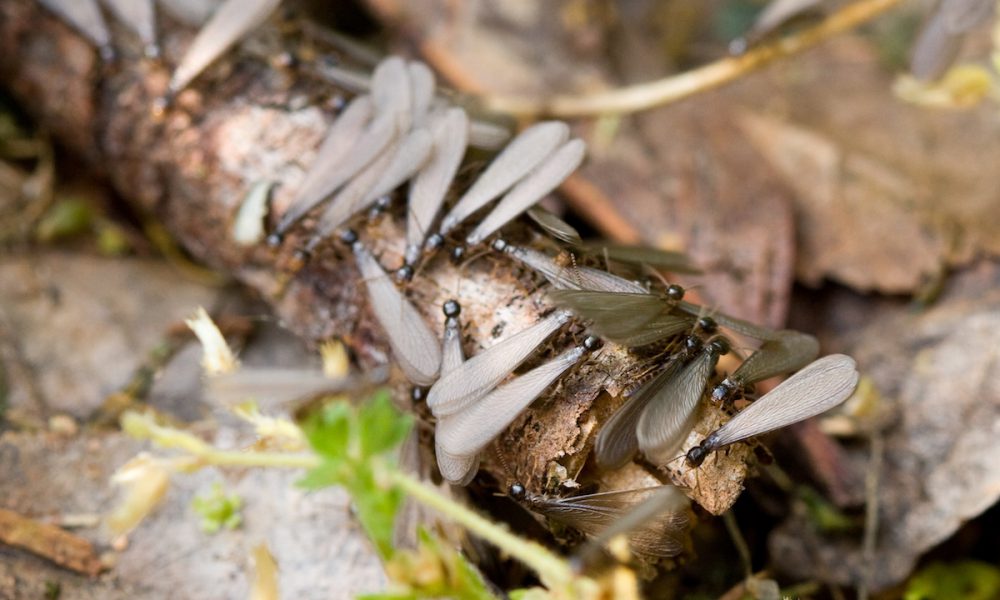 In some areas around the U.S., signs of Spring are emerging which means termite season is right around the corner. Typically Spring is when a large numbers of winged termites, known as "swarmers," emerge inside homes.
According to Pestworld.org, "American homeowners may not be surprised that the first full week of spring is also Termite Awareness Week, recognized by the National Pest Management Association (NPMA) and Chase's Calendar of Events. Spring is prime termite season as swarmers, or winged termites, emerge in search of establishing new colonies, which often include vulnerable residential properties. This advice comes on the heels of the group's new survey, finding 38 percent of U.S. adults worry about discovering termites in their home, 33 percent have or know someone who has experienced termite damage and that despite these concerns, more than half (52 percent) of Americans have never had their homes inspected".
Termites swarm to start new colonies. Warmer temperatures and rainfall trigger the winged termites who emerge from their colony and fly into the air. The swarmers then drop to the ground, shed their wings, pair off with a mate, and attempt to begin new colonies in the soil. If swarmers are emerging next to your home's foundation, porches or patios, there is a good chance the home is infested and needs immediate treatment.
Do you have Termites?
"Termites rarely emerge from soil, mud tubes, or food sources through which they are tunneling. Most people are not aware they have termites until they see a swarm or come across damage during construction", says The US Environmental Protection Agency.
Since termites live underground and in the walls of your home, you might not be able to ever see the actual termites
Signs
Here are typical signs that you have termite activity:
Termite droppings, which look like small, ridged, wood-colored pellets that resemble sawdust
Discarded wings near doors or windowsills
Mud tubes on exterior surface
Soft wood in the home that sounds hollow when tapped
Darkening or blistering of wood structures
Cracker or bubbling paint
Why worry about termites?
"When it comes to ensuring the structural stability of your future home, a wood destroying organism (WDO) inspection is a must," said Missy Henriksen, vice president of public affairs for NPMA. "Termites cause approximately $5 billion in property damage annually, an expense not typically covered by homeowners' insurance. Avoiding a termite or WDO inspection leaves the buyer vulnerable to unexpected out-of-pocket costs down the line."
"Termites can also quite literally eat homeowners out of house and home without them even knowing it until it's too late. Termites are known as "silent destroyers" due to their ability to chew through wood, flooring and even wallpaper undetected, 24/7, and can compromise the structural stability of a home within several years depending on the species. Reports Pestworld.org.
Pest Control
Hire a Pest Control Service to perform an inspection and give you the analysis of the problem with their treatment solution.
Houseman Services is the only complete service company in the Athens, GA area. We provide Weed control, fertilization, shrub care, mulch & pine straw, sod, annual plantings, irrigation, and commercial & residential lawn maintenance. We are also state certified and licensed in wood destroying organisms (termite control), household pest control, public heath, and turf & ornamental weed control. We are licensed to control and treat mosquitoes, termites, all pest problems and turf & ornamental weed control. Contact the professionals at Houseman Services and set up a free inspection of your yard. We have been servicing homes and businesses in the Athens, Clarke County area since 1985!