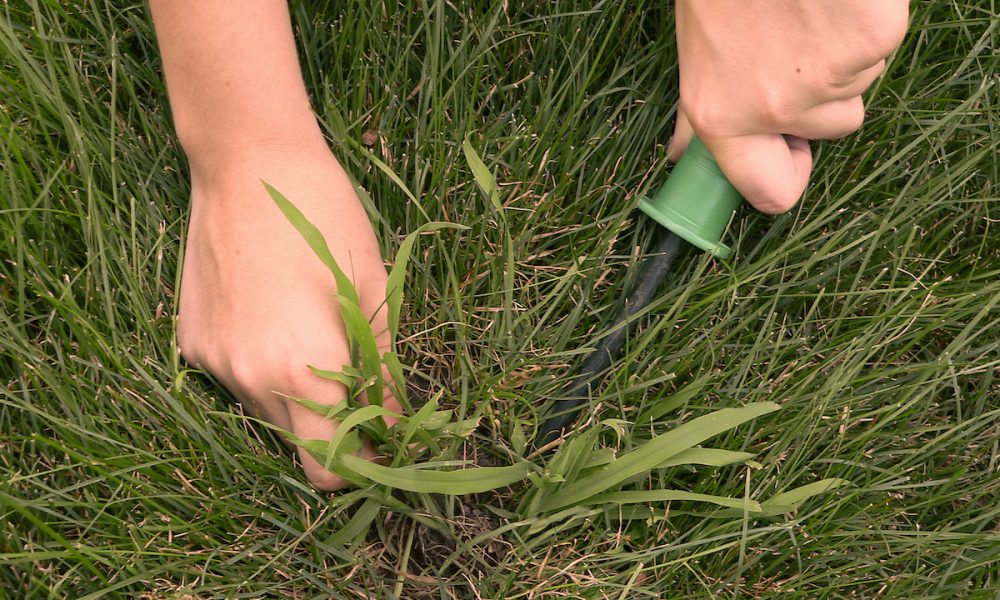 At Houseman Services, we know all about lawn care. Nothing gets in the way of a beautiful lawn more than weeds coughing out the grass. In Georgia, there are hundreds of different species of weeds. This series is dedicated to educating you about the most common weed types in Georgia.
Each week, we will cover these different weeds:
Crabgrass
Crabgrass is one of the most recognizable weeds in a lawn. It thrives in heat and drought conditions. Most plants and grass are a struggle or even die in the heat but not crabgrass. Because crabgrass can be challenging to eliminate, it is best to address it early on.
The roots and stem must be pulled out completely. Mulch is a great tool to keep it away from your garden. Applying a pre-emergent can help kill crabgrass before the seeds are even germinated.
Crabgrass is a summer annual low-growing weed that appears from mid-spring through summer. It spreads by seed and from rootings of nodes that lie on the soil. It can grow up to two feet tall if unmowed. It grows well under dry, hot conditions. As an annual, crabgrass dies at the end of each growing season, usually at the first frost in the fall, and it must produce new seeds every year.
The seeds can remain viable for at least three years in soil, so it is vital to controlling crabgrass before it sets seed.
If you mow your lawn regularly that might be all that you need to prevent them from flowering and producing seed? Most experts recommend that you mow your lawn to a height of 2 to 4 inches and that you mow frequently enough to keep it within that range. Be sure to select grass adapted to your location so it's a healthy, thick lawn because a vigorously growing turf will crowd out new weed seedlings. Perennial ryegrass is the best competition for crabgrass, which also provides some insect control. Fertilizing is critical and must be done in the spring and the fall. Crabgrass thrives in compacted lawns so that aeration can help.
In your garden, you easily can control crabgrass by mulching, hoeing, and hand-pulling when the plants are young and before they set seed. Mulching with wood products (wood chips or nuggets), composted yard waste, or synthetic landscape fabrics covered with mulch will reduce crabgrass in shrub beds and bedding plants and around trees. The mulch blocks the sunlight needed for its germination, establishment, and growth.
Organic mulches that have been on the soil for a while decomposing can provide an adequate growth medium for weeds to germinate and grow in.
Contact Houseman Services at 866-964-PEST as soon as possible so we can treat your property?
Houseman Services is the only complete service company in the Athens, GA area. We provide Weed control, fertilization, shrub care, mulch & pine straw, sod, annual plantings, irrigation, and commercial & residential lawn maintenance. We are also state-certified and licensed in wood destroying organisms (termite control), household pest control, public health, and turf & ornamental weed control. We are licensed to control and treat mosquitoes, termites, all pest problems, and turf & ornamental weed control. Contact the professionals at Houseman Services and set up a free inspection of your yard. We have been servicing homes and businesses in the Athens, Clarke County area since 1985!